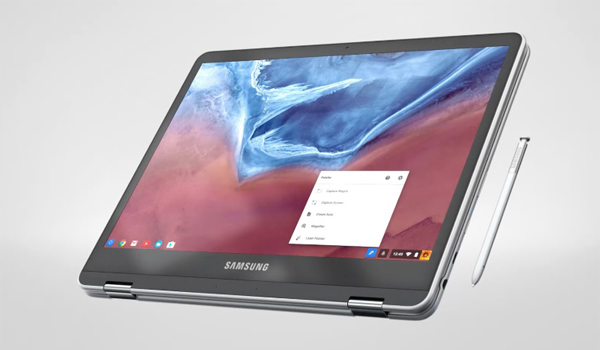 Samsung Chromebook Pro Tipped to Introduce 'Wake on Voice' Support
November 25, 2016
Google's fast-growing Chrome OS recently got the ability to support Android apps, adding a huge breadth of apps to the platform. Now, the company is reportedly adding a 'Wake On Voice' command to its upcoming Samsung Chromebook Pro laptop, and possibly even integrating Google Voice Assistant.
ChromeUnboxed found traces of this while digging in Chromium commits. In one of the commits, the 'Gru' baseboard supported 'Wake on Voice' via the digital signal processor. The Gru baseboard is what the Samsung Chromebook Pro is built on, and this is why the report speculates that the laptop will be shipped with 'Wake on Voice' enabled.
Chromebooks already support 'Ok Google' to run search based on relevant voice commands. Now, with 'Wake on Voice', the Chromebook will also wake up from deep sleep just by giving it an appropriate voice command. The report also speculates that the 'Wake on Voice' inclusion could also mean the introduction of Google Assistant.
Google will look to expand its Assistant footprint to its range of devices including laptops, and Chromebooks seem to be an ideal place for it. Currently, Google Assistant is only inbuilt in the Pixel smartphones. With the inclusion of Android apps to the ecosystem, it would now be easy for Google to deploy Assistant in Chrome OS. It is important to note that this is all just speculation, and Google could just bring 'Wake on Voice', as the commit hints, and nothing else.We also wonder how all this would translate to Andromeda, which is said to be the internal codename of the long-rumoured merger between Android and Chrome OS.
As per previous leaks, the Samsung Chromebook Pro will come with a 12.3-inch touchscreen display with a screen resolution of 1600x2400 pixels, and feature a 360-degree-hinge that allows users to rotate the display as per their requirement. It will pack a 2GHz hexa-core processor coupled with 4GB of RAM and 32GB of inbuilt storage. It is expected to be 13.9mm thick and weigh 1.08kg.The battery life on Chromebook Pro lasts up to 10 hours. In terms of connectivity options, the laptop will have two USB type-C ports, headphone jack, and an SD card slot. It will be bundled with a stylus that kept inside the slot present on the Chromebook itself.
Courtesy by Gadgets 360.com