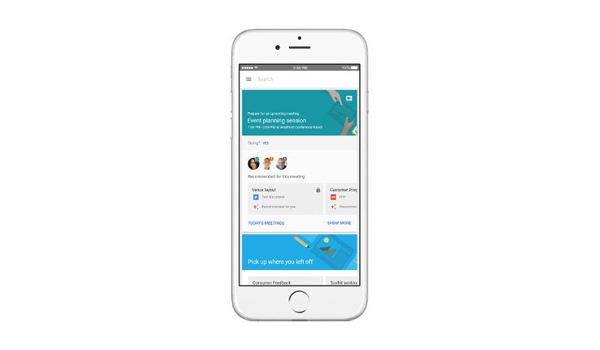 Google Cloud Search Assistant Launched for iOS Devices
April 13, 2017
Google has launched its Google Cloud Search assistant for iOS devices. The digital assistant for G Suite users was previously made available as preview named Springboard and makes use of machine intelligence to provide a unified search experience across G Suite. While Google Cloud Search was already available to Web and Android users, the app can now be downloaded for iOS devices as well.
The search giant has pointed out that Google Cloud Search will only work if user's organisation has enabled this G Suite service. "Use the power of Google to search across your company's content in G Suite. From Gmail and Drive to Docs, Sheets, Slides, Calendar, and more, Google Cloud Search answers your questions and delivers proactive recommendations to help you throughout the day," the company says in the app description.
The Google Cloud Search provides users with relevant information in the form of assist cards. "Assist cards are a new way to help you find the right information at the right time. Using Google's machine intelligence technology, these cards can help you prepare for an upcoming meeting or even suggest files that need your attention," the company said in its blog post at the time of its launch.
The search giant says that the assist cards have been designed to be timely so that they enable you to get through your work routine more efficiently. As machine learning is being used, it gets better with time as it absorbs information. Google earlier said that it will be adding more assist cards to Cloud Search over time.
Courtesy by Gadgets 360.com