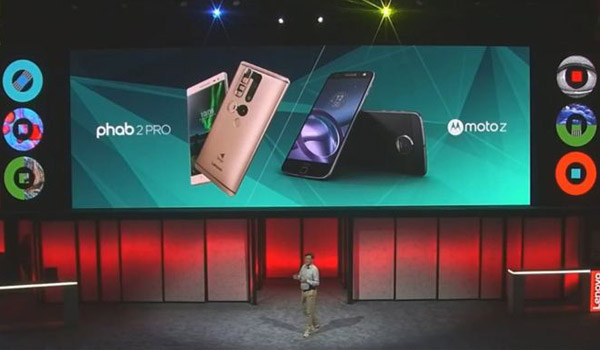 Lenovo has announced two unusual smartphones
June 10, 2016
Lenovo has announced two unusual smartphones - a model that uses special cameras to scan its surroundings and a handset with optional snap-on parts.
The Phab2Pro's sensors allow it to make sense of objects and close-by spaces, allowing graphics to be intelligently added to real-world views.
The Moto Z uses magnets to add optional hardware modules to the phone's rear including a speaker and a projector.
Analysts said the innovations might prove a tough sell.
That would complicate Lenovo's efforts to turn around sales of its own phones and those of the Motorola division it bought from Google for $2.8bn in 2014.
The Phab2Pro has a lot of promise, showing immediate value creation within certain use cases. The Moto Z is certainly innovative, but I'm not sure how much consumers can wrap their brains around modular devices.
The announcements were made at an event in San Francisco, where bendy smartphone and tablet prototypes were also revealed.
The Phab2Pro is the first device to use Google's Tango technology.
The search firm has developed a system that adds depth-sensing and motion-tracking cameras to the normal front and rear photo lenses.
Courtesy by BBC News