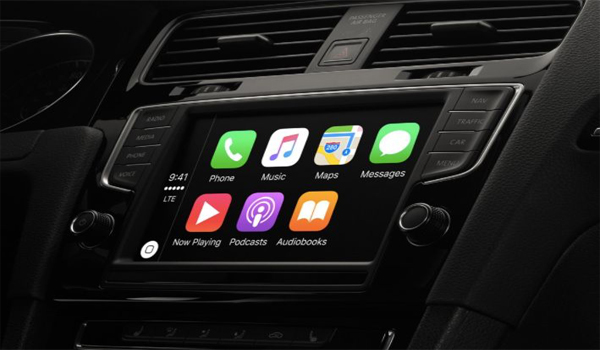 You can now safely use your iPhone behind the wheel without wires
November 17, 2016
Apple's CarPlay software lets you safely use your iPhone behind the wheel of 170 different models of cars and trucks. But the fact that you need to use a Lightning cable to connect your handset to your vehicle in order to use the feature is a huge pain.
Apple (APPL) addressed the issue in 2015 with an update to its iOS 9 operating system that let automakers add wireless CarPlay connectivity to their vehicles. But we're only now starting to see the first cars that use the feature.
I recently got a peek at wireless CarPlay in action in a BMW 7 Series and seriously hope it comes to more vehicles soon. Today, BMW is the only automaker rolling out CarPlay wireless connectivity, but more are expected to offer the functionality in the future. Why the year-long delay? Because building a car with new features takes a lot longer than developing a software update for a service like CarPlay.
So why should you be pumped about CarPlay using a wireless connection? Because it means you don't have to haul around a silly Lightning cable whenever you want to use the software. Seriously, how many times have you jumped into your car only to realize that you don't have your Lightning cable with you? Probably enough to not even want to use CarPlay anymore.
Now though, you can get into your car and your iPhone will automatically connect to your vehicle's Bluetooth and Wi-Fi connections. Tap the on-screen CarPlay icon and your infotainment system will transform into a stripped down version of your iPhone's home screen.
Not to be left behind, Google announced back in May that its own in-car system, Android Auto, would begin rolling out wireless connectivity for vehicles with built-in Wi-Fi connections.
Outside of wireless connectivity, CarPlay will soon add the ability to directly control some of your car's functions using Siri. No, you won't be able to shift gears or turn off the engine, but you will be able to do things like turn on the radio, as well as change the climate control settings and defrosters. If you've got a car that's a bit on the sportier side, you'll also be able to tell Siri to do things like change the suspension settings for a stiffer ride.
Of course, before you can do any of that, automakers will have to implement Apple's Siri kit in their vehicles, which might take awhile.
In the meantime, though, riding with your iPhone just got a lot easier.
Courtesy by Yahoo News